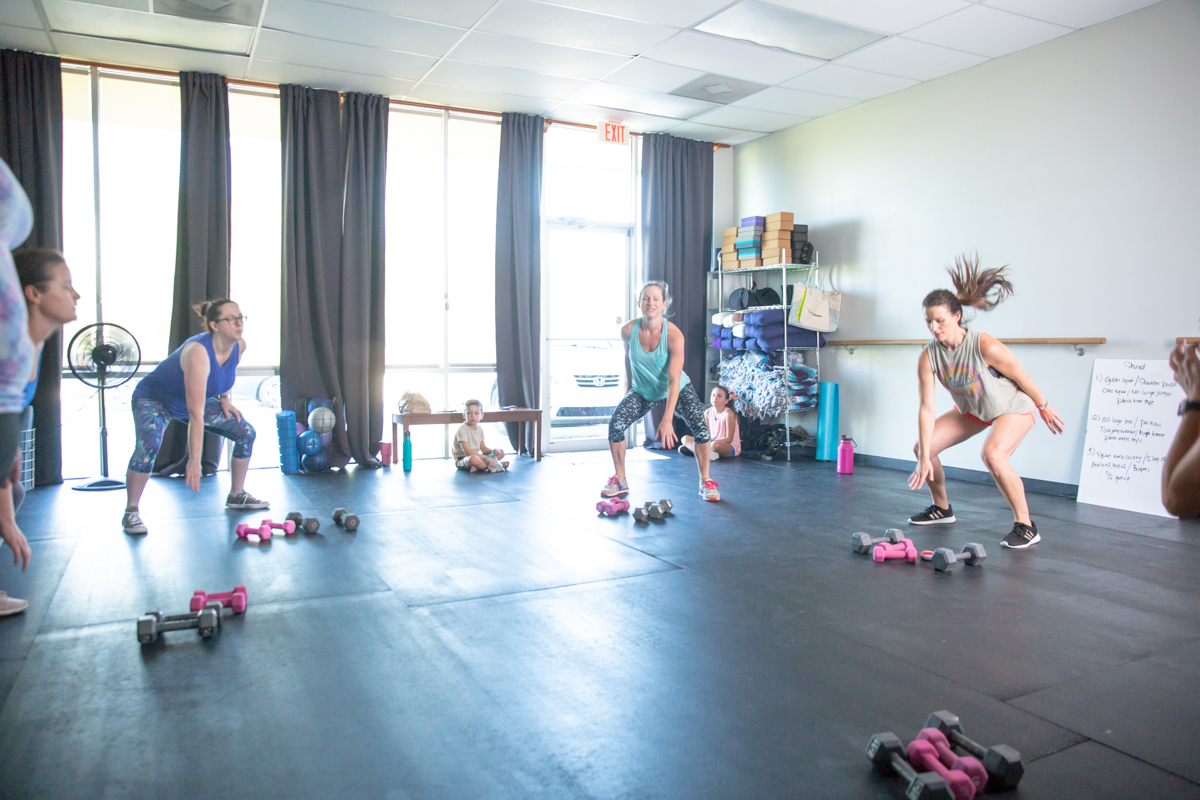 Barre
Barre classes are ballet-inspired group fitness classes. Barre classes mix elements of Pilates, dance, yoga, strength training with weights, functional training, corrective exercise, and dance moves choreographed to motivating music.
Barre Xpress
Barre Xpress is a 45 minute barre class incorporating the use of light weights, TRX equipment, body weight, bands, and other props. The class is taught in intervals and will include cardio, strength training, and stretching.
Cardio Kickboxing
Cardio Kickboxing is a group fitness class that combines martial arts with high intensity interval training, also known as HIIT as well as strength training incorporating body weight, barbells, kettlebells, and free weights.
Lift
Lift focuses on improving and perfecting weightlifting and Olympic lifts while working on form and increasing strength.
MetCon
Metcon is an intense circuit-style metabolic conditioning workout that is one of the most popular training methods used in the fitness industry today. The class utilizes a combination of strength training exercises (weight lifting, body weight) and cardio conditioning drills. Workouts may be timed, and create a fun and friendly competitive atmosphere!
Pilates
Pilates is a series of exercises from within the Pilates Method designed specifically to be performed on a mat. The main fitness goals of a mat Pilates program include improved flexibility, muscle tone, body balance, spinal support, low back health, sports performance, and body-mind awareness.
Restorative Yoga
Is a type of yoga that utilized supported postures and therapeutic breathing techniques combined to rejuvenate and deeply relax your body and release residual tension. Peaceful, calming and nurturing. Each pose will be supported with props and held for 3-6 min. It's a great way to prepare for your week and recover from the weekend. This class is the perfect place to begin your yoga practice or take your practice deeper and recover from training.
Pound
Instead of listening to music, you become the music in this exhilarating
full-body workout that combines cardio, conditioning, and strength training
with yoga and pilates-inspired movements. Using Ripstix®, lightly weighted
drumsticks engineered specifically for exercising, POUND transforms
drumming into an incredibly effective way of working out.
Designed for all fitness levels, POUND® provides the perfect atmosphere for
letting loose, getting energized, toning up and rockin' out! The workout is
easily modifiable and the alternative vibe and welcoming philosophy appeals
to men and women of all ages and abilities.
Shred
Shred is a High Intensity Interval training program. the class is circuit style and incorporates 3 minutes of strength training, 2 minutes of cardio, and 1 minute of core work for 3 rounds.
This is a great class for when you're limited on time, but still want an excellent workout.
Spin
In spin class, you pedal along on a stationary bike as the instructor guides your speed and intensity. The pace and speed will vary throughout the workout, sometimes requiring break-neck speed, and other times pedaling happens from a slow, standing position.
TRX
HIIT (high intensity interval training) incorporating both the TRX suspension trainer and calisthenic exercises.